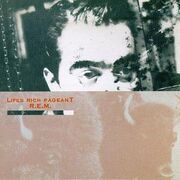 Lifes Rich Pageant is the fourth studio album by R.E.M., recorded April–May 1986 and released July 28, 1986 on the I.R.S. Records label. It was produced by Don Gehman at his Belmont Mall Studios in Belmont, Indiana.
With a larger growing fanbase, the album proved to be the band's biggest U.S. album yet, charting at #21 on the Billboard charts, and became the band's first gold record. The album managed at #43 in the UK.
Track listing
Edit
All songs written by Bill Berry, Peter Buck, Mike Mills and Michael Stipe, except as indicated.
On the vinyl release, side one (tracks 1–6) was labelled "Dinner side" and side two (tracks 7–12) labelled "Supper side"
"Superman" was listed on some early copies as "Superwoman"
The track listing on the back of the album is incorrect and has never been corrected. The order is given as 1-5-10-8-2-7-4-9-3-11, which leaves out "Superman" and "Underneath the Bunker." The track listing is however correct on the actual vinyl, cassette, and CD
Early pressings of the CD list the track number for "Cuyahoga" as "0R" instead of "04" printed on the CD itself, similar to "Stand"'s listing on R.E.M.'s later album Green.
The I.R.S. Years reissueEdit
On January 26, 1993, EMI (which owns the I.R.S. catalogue) re-released Lifes Rich Pageant with the following bonus tracks:
"Tired of Singing Trouble"[1] – 0:59
"Rotary Ten" (B-side of "Fall on Me" 7" U.S.) – 1:58
"Toys in the Attic" (Steve Tyler, Joe Perry) (B-side of "Fall On Me" 12" UK) – 2:26
"Just a Touch"[1] (live-in-studio) – 2:38
"Dream (All I Have to Do)" (Boudleaux Bryant) (acoustic) – 2:38
"Swan Swan H" (live acoustic) – 2:41
Personnel
Edit
Bill Berry – drums, vocals
Peter Buck – guitar
Mike Mills – bass, organ, vocals
Michael Stipe – vocals
Ad blocker interference detected!
Wikia is a free-to-use site that makes money from advertising. We have a modified experience for viewers using ad blockers

Wikia is not accessible if you've made further modifications. Remove the custom ad blocker rule(s) and the page will load as expected.