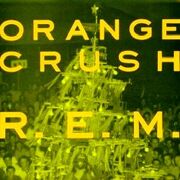 "Orange Crush" is a song by R.E.M. from their sixth studio album Green, recorded and released in 1988 on the Warner Bros. Records label. It was the first single taken from Green, and the first single by R.E.M. to be released on the Warner Bros. Records label after their newly signed record contract, after their five-album contract with I.R.S. Records expired. Despite not being released as a commercial single in the U.S., it reached #1 on Mainstream rock chart and Modern Rock Tracks chart on promotional singles, where it stayed for eight weeks (beating the record set previously by U2). The song was released as a commercial single in the UK, and peaked at #28 on the UK Singles Chart, being the band's highest chart position in Britain at the time.
Although the title of the song is shared with a U.S. soft drink, the imagery of the song is more centered around war, most likely the Vietnam War. The promotional music video for "Orange Crush" contributes to this imagery, which was commercially released in 2003 on the In View: The Best of R.E.M. 1988–2003 video release. The song itself was placed on R.E.M.'s 2003 Warner Bros. "best of" compilation album In Time: The Best of R.E.M. 1988–2003.
Track listing
Edit
"Orange Crush" (Bill Berry, Peter Buck, Mike Mills, Michael Stipe) – 3:50
"Ghost Riders" (Martin Reverby, Alan Vega) – 3:45
"Dark Globe" (Syd Barrett) – 1:52
Ad blocker interference detected!
Wikia is a free-to-use site that makes money from advertising. We have a modified experience for viewers using ad blockers

Wikia is not accessible if you've made further modifications. Remove the custom ad blocker rule(s) and the page will load as expected.