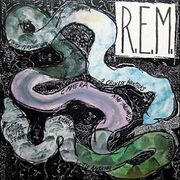 Reckoning is the second studio album by R.E.M., recorded between December 9, 1983 and January 16, 1984 and released on April 9, 1984 to critical acclaim and promising record sales. It was again produced by Mitch Easter and Don Dixon and released on the I.R.S. Records label.
The album reached #27 in the U.S. and went gold in 1991, and peaked at #91 in the United Kingdom.
Track listing
Edit
All songs written by Bill Berry, Peter Buck, Mike Mills and Michael Stipe, except as indicated.
On the vinyl release, side one (tracks 1–5) was labelled "L" and side two (tracks 6–10) labelled "R".
The I.R.S. Years reissueEdit
On August 10, 1992, EMI (which owns the I.R.S. catalogue) re-released Reckoning in the EU with the following bonus tracks:
↑

A brief, informal jam takes place at the end of the track

↑ A 28-second noise collage followed this song on the initial vinyl pressing and the Mobile Fidelity Sound Lab gold CD release. It can be heard as incidental music during the Left of Reckoning video
Personnel
Edit
Ad blocker interference detected!
Wikia is a free-to-use site that makes money from advertising. We have a modified experience for viewers using ad blockers

Wikia is not accessible if you've made further modifications. Remove the custom ad blocker rule(s) and the page will load as expected.