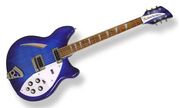 The Rickenbacker 360 is a semi-acoustic electric guitar manufactured by Rickenbacker International Corporation (RIC). It is a deluxe model of the Rickenbacker 330, which share the trademark 'R' tail-piece, maple/walnut neck and the 24-fret fingerboard, but the 360 model has an extra jack input ('Rick-o-Sound') for stereo output, and has pearloid triangle fret inlays, instead of dots. The body is also more curved and rounded than the 330. A three-pickup model is available (370).
The Rickenbacker 360 is R.E.M. guitarist Peter Buck's trademark guitar and guitar of choice, who makes use of its ringing, jangly sound.
Ad blocker interference detected!
Wikia is a free-to-use site that makes money from advertising. We have a modified experience for viewers using ad blockers

Wikia is not accessible if you've made further modifications. Remove the custom ad blocker rule(s) and the page will load as expected.